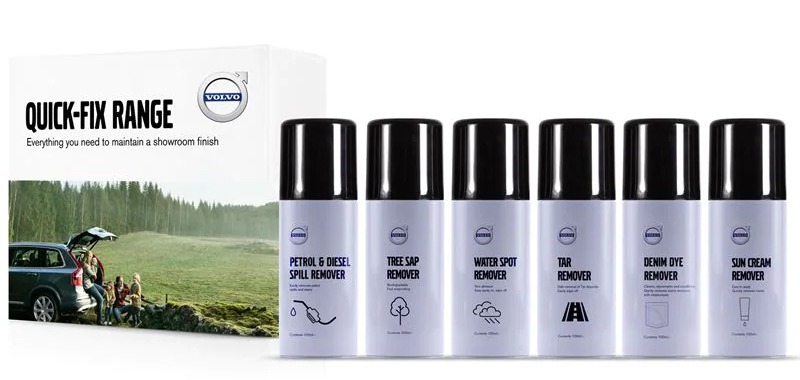 For only £22.50
This Quick-Fix Range of cleaning products has been chemically designed to remove unwanted marks from a selection of surfaces in your car. Now the full range is available in a kit box for just £22.50, giving the opportunity to efficiently remove any unsightly marks.
The kit includes:
Denim Dye Remover - A specially formulated solution designed to remove denim dye from leather. The gentle foam will ift and suspend the denim dye as well as other soils from the surface which can be easily wiped away.
Sun Cream Remover - A highly effective, easy to use product designed to remove sun cream from interior hard services and automotive paintwork. The special blend of solvents quickly dissolves the sun-cream residues allowing them to be wiped away from the surface.
Tree SAP Remover - Specially formulated to remove tree sap and other natural resin-based residues from automotive bodywork.
Water Spot Remover - A blend of cleaners specially formulated to gently remove water spot marks from the surface of the paintwork.
Petrol & Diesel Spill Remover - A blend of cleansers designed to remove stains from the surface of the paintwork. The rich enhanced formula contains waxes that will leave a protective gloss film.
Tar Remover - Tar droplets can spoil the look of a showroom finish and can cause long term damage to the appearance. Our Tar Remover contains a unique organic formula that dissolves the tar off the surface with just a wipe.

All products come in a 100ml bottle.

To order your Quick-Fix Kit please contact us on 01202 065 555.