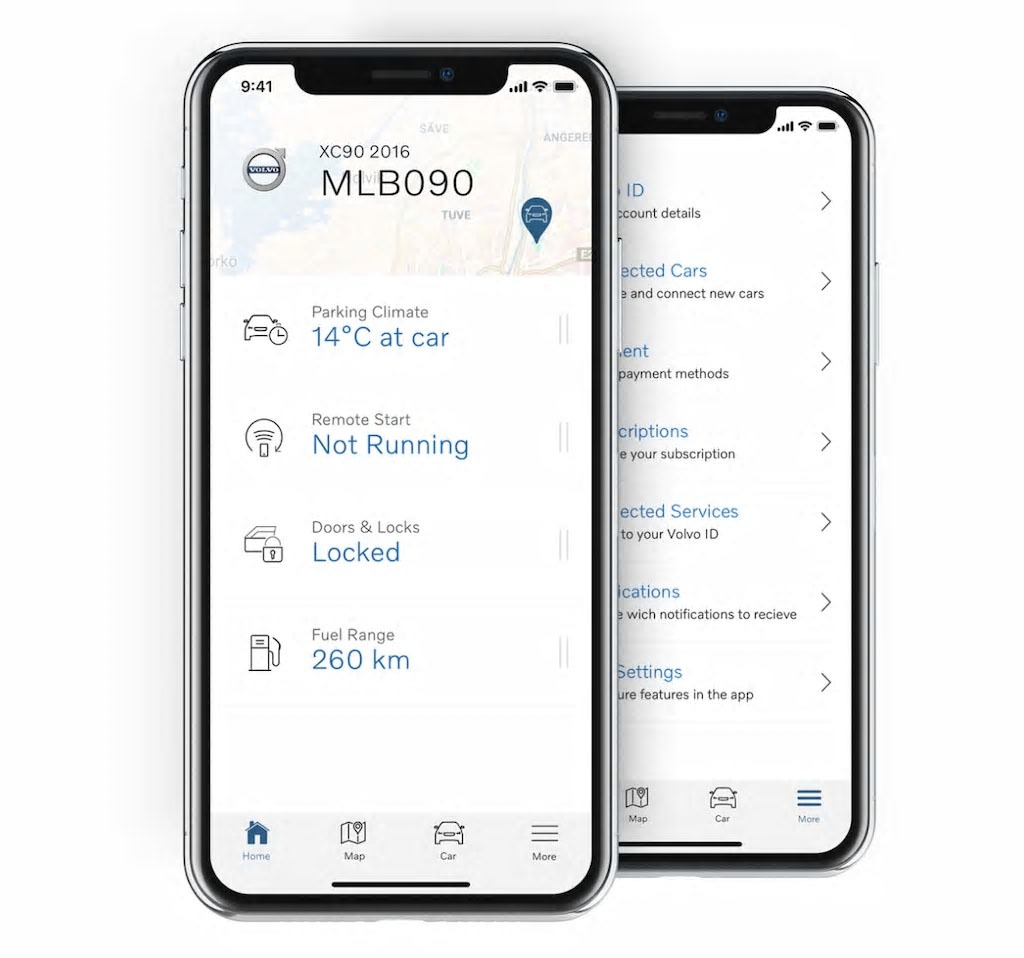 One app. Everything Volvo.
The Volvo Cars App (was Volvo On Call) keeps you in communication with your Volvo car enabling a convenient and enjoyable Volvo experience.

Making your everyday life a little less complicated
The Volvo Cars App offers useful controls for your Volvo and enables emergency assistance wherever you are. The Volvo Cars App is also your entry point to a growing range of services that will make your life a little bit easier.

Lock Unlock
No more wondering if you remembered to lock your car. Lock or unlock your Volvo whenever, wherever you are.

Climate Control
You decide whether you want your car warmed up in winter or cooled down in the summer with remote climate functions.

Send Destination
Send your destination to your car's navigation system before you leave.

Driving Journal
Perfect for keeping a detailed record of your trips. Can be exported in Excel or .CSV format.

Vehicle Dashboard
See vehicle dashboard values, such as fuel level, trip meters, and more, in the App.

Roadside Assistance
Request roadside assistance from the App.
Renewing your subscription
To use the Volvo Cars App your vehicle must be model year 2012 onwards and be equipped with a Volvo on Call Telematics Unit. All new Volvo's come with 3 years free subscription.*
After that, you can easily purchase a 1-year subscription via the app before the subscription ends.
If your subscription has expired
If your subscription has already expired or you would like a 2-year extension, then please call our Service team on 01202 065555 and they can complete a remote download which will then update your subscription within 72hrs. Please note: that if the remote download is unsuccessful, a visit to the showroom will be required which may incur additional charges.
The cost
1 Year Subscription - £34.90 incl VAT
2 Year Subscription - £59.90 incl VAT
Not renewing
If you choose not to renew your subscription, you will still have the in-car access to the SOS button to initiate Roadside Assistance. You will however, lose the features listed above under the Volvo Car App subscription.
* As of MY22, the following car models must be equipped with the Digital services package** at delivery to enable the Volvo Cars App - S90, V90, XC60, C40 and XC40 Recharge pure electric.
** The Digital services package comes with a 4-year subscription which provides full access to available applications and data, at the expiration of the 4 years, new terms and conditions will apply.