Volvo Service in Poole, Dorset
We know what's important
VOLVO SERVICE PROMISE
When you bring your Volvo in for a service to Volvo Cars Poole, you can expect the highest level of expertise and care from our certified and trained technicians. We combine Volvo's unique methods with Volvo Car Genuine Parts to ensure your car continues to perform at its best.

We also offer personal contact, convenient service options, and free software updates with every service. When it comes to taking care of your Volvo, we know what's important.
Personal Service Contact
Support when you need it. Your personal service contact will answer any questions you may have and provide support when you need it.
Software Updates
The things that matter. Volvo cars are continually improving. The Volvo Service Promise includes the latest software updates, which means your car gets a little bit smarter after every service.
Car Wash
Newly - washed and ready to go. It's nice to have a clean and newly-washed car. We wash your Volvo every time we service it.
Volvo Assistance
Reassurance for every journey. Volvo Assistance provides breakdown help and reassurance 24/7. After each service, we will extend your Volvo Assistance for one year at no extra cost.
Convenient Service Options
Minimum disruption. We offer a variety of flexible service options to suit you. Including while you wait, drop off & collect Volvo Valet collection & delivery, and loan car options.
Volvo Valet
Care and convenience. For your convenience, we'll pick up your car, service it at our workshop and then return it to you safely and contact-free.
Health Check
Nothing overlooked. get extra peace of mind with a full health check for your Volvo. Make sure that your battery and all safety systems are running smoothly.
Volvo Genuine Service
Peace of mind. Our trained technicians always use Volvo Genuine parts and methods to keep your car performing at its best
---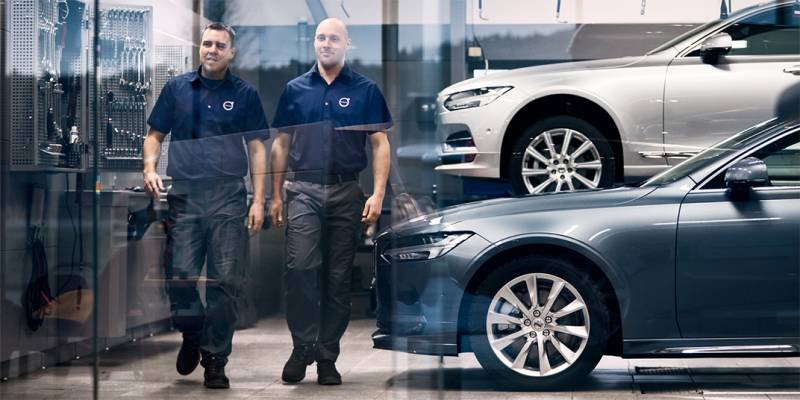 Volvo Personal Service
A life less complicated
A new approach to service that takes care of you as well as takes care of your car. We've come up with a new approach to servicing your car. An approach that's faster and more efficient. Now, our expert technicians work in teams like a racing car pit stop - which means most services will be completed within the hour. So, you might as well just wait and relax while we work to protect the interior and exterior of your Volvo with this accessory package, designed to maintain the car's good looks.
Make the best use of your time
While you're waiting for your car you are welcome to use our Living Room. A comfortable lounge with free Wi-Fi, refreshments, and magazines - everything you need to help make the best use of your time. And before you know it, your car will be serviced, washed, and ready to get back out on the road
Your own personal technician
Soon, all Volvo owners will have their very own Personal Service Technician who'll take care of everything to do with their car - from booking appointments to carrying out the service. And as you'll deal with the same technician each time, they'll get to know you as well as your car.
---
Health Check
We do everything we can to make your car Volvo as safe as possible. And to make sure it stays that way we're offering to carry out a 30-point health check of your Volvo. This 40-minute inspection will make sure your Volvo continues to deliver the highest standards of safety for you and your passengers. Our Volvo-trained technicians inspect all the mechanical elements of your car and connect it to our diagnostic system - to check the parts you can see and the ones you can't. We'll also be able to let you know about any software upgrades available for your model direct from the Volvo factory in Sweden.
Your Volvo will also be returned washed and vacuumed free of charge. For that extra peace of mind, book your health check today and visit our Volvo Garage.