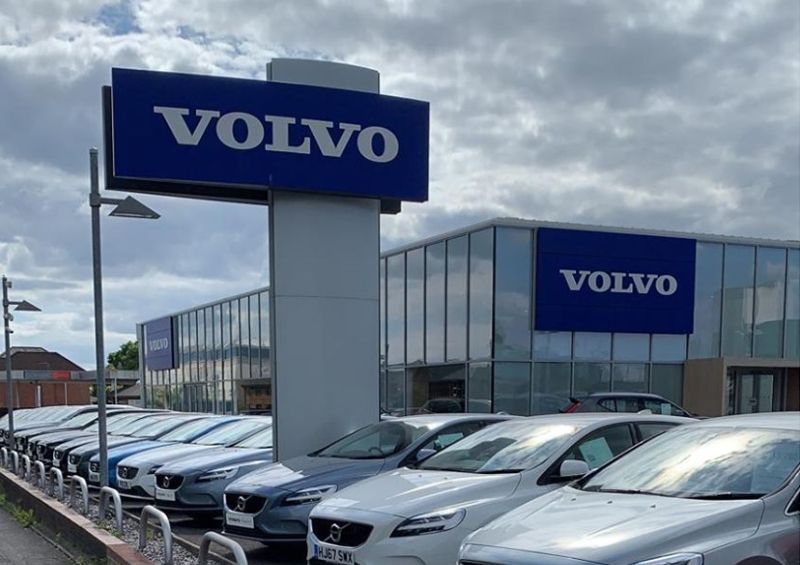 Pre-registered models available at Volvo Cars Poole
We currently have a range of pre-registered models available with significant savings compared to the new list prices. Our stock of these can be seen below, however, if you are unsure what a pre-registered car is then read on.
Summary of pre-registered car benefits
| Brand-new vs pre-registered | Brand-new | Pre-registered |
| --- | --- | --- |
| Brand-new car | Yes | Yes |
| Delivery mileage only | Yes | Yes |
| Full manufacturer's warranty | Yes | Yes |
| Savings compared to list price | No | Yes |
| First owner | Yes | No |
| Never driven until you take delivery | Yes | Yes |
What is a pre-registered car?
A pre-registered car is one that has been registered to the retailer (e.g. Volvo Cars Poole) but has not been driven. This is done to assist with meeting monthly sales targets for the manufacturer (e.g. Volvo Car UK) and is a common occurrence in the motor industry.
What are the advantages of a pre-registered car?
By purchasing a pre-registered car you benefit from nearly all of the advantages of a brand-new car but at a used car price. Like a new car, it will have only delivery mileage and will have the balance of the full manufacturer's warranty.
Are there any drawbacks?
In terms of the car you drive away, there are no disadvantages to a pre-registered car compared to a brand-new car. However, you will be the second registered owner (with the retailer being the first) and this may have an impact on the resale value further down the line. Depending on how you choose to fund your purchase there may also be other offers that are more competitive than a pre-registered car.
Pre-registered cars at Volvo Cars Poole
Our 70-plate pre-registered Volvo stock can be viewed below. If one of these models is of interest please get in touch or click on the model to find out more. One other factor to consider with pre-registered cars is that we only have limited stock and once sold this will not be replenished.
| | | | | | |
| --- | --- | --- | --- | --- | --- |
| Model | Reg Date | Reg No | New List Price | Pre-registered price | Saving vs. new |
| V90 2.0 T5 250hp Cross Country Plus AWD | 28/08/2020 | HG20 LTO | £48,450 | SOLD | SOLD |
| V90 2.0 T5 250hp Cross Country Plus AWD | 28/08/2020 | HG20 LTK | £48,450 | £33,689 | £14,761 |
| S60 2.0 T8 405hp Polestar Engineered AWD | 25/09/2020 | HF70 MXB | £57,025 | SOLD | SOLD |
| S90 2.0 T8 Twin Hybrid Inscription Plus AWD | 25/09/2020 | HF70 MWY | £62,950 | £44,790 | £18,160 |
| V90 2.0 T5 250hp AWD Cross Country Plus | 25/09/2020 | HF70 MWZ | £52,700 | £35,990 | £16,710 |
| V90 2.0 T6 310hp Cross Country Plus AWD | 25/09/2020 | HF70 MWM | £57,675 | £39,990 | £17,865 |
| V90 2.0 T5 250hp Cross Country Plus AWD | 25/09/2020 | HF70 MWW | £48,450 | £32,990 | £53,460 |
| V90 2.0 T5 250hp Cross Country Plus AWD | 25/09/2020 | HF70 MVW | £48,450 | £32,990 | £15,460 |
| XC60 2.0 T8 Hybrid Inscription Pro AWD | 25/09/2020 | HF70 MVX | £68,375 | £52,444 | £15,931 |
| XC90 B5 (Petrol) AWD Inscription Automatic | 25/09/2020 | HF70 MWJ | £59,874 | SOLD | SOLD |
| V60 2.0 T4 190hp Inscription Plus | 28/09/2020 | HJ70 RKF | £39,725 | SOLD | SOLD |
| V60 2.0 T4 190hp Inscription Plus | 28/09/2020 | HJ70 RKA | £39,725 | £27,990 | £11,735 |
| V60 2.0 T4 R-Design Plus | 28/09/2020 | HJ70 RJY | £39,605 | SOLD | SOLD |
| XC60 2.0 T8 Recharge Hybrid R-Design Pro AWD | 28/09/2020 | HJ70 RHU | £56,000 | £42,990 | £13,010 |
| XC60 2.0 T8 Recharge Hybrid R-Design Pro AWD | 28/09/2020 | HJ70 RHK | £60,600 | SOLD | SOLD |
| XC40 2.0 T4 190hp Inscription Pro FWD | 28/09/2020 | HJ70 RHF | £35,950 | SOLD | SOLD |
Latest News
22-06-2022
XC40 maintains its winning reputation, taking the Family SUV of the Year title…
Read more >
16-06-2022
• Compact SUV crowned the UK's best car for towing…
Read more >
12-04-2022
All new Volvo car models are now available with over-the-air (OTA) software…
Read more >